Wella's Global Ambassador wows Indian Hairdressers
Much loved and respected by thousands of hairdressers around the world Patrick Cameron is a Guru to those who want to master the art of long hairdressing. Whether it is bridal hair or red carpet looks, he is the master of it all, bringing his artistry to create elegant looks. As the Global Ambassador for Wella, Patrick travels the world educating hairdressers. StyleSpeak caught up with him on his visit to Mumbai this June to present one of his most anticipated collections 'Modern Vintage'.
How did you take up long hair dressing?
I love long hairdressing, but I loved cutting and colouring too! So I had three passions! I think long hair appeals to my personality. I'm a very gregarious, larger than life person, I like the showmanship of long hair, because it is truly the craft.
We are called hairdressers for dressing hair – not hair cutters or hair colourists, because hairdressing is one of the most foundational aspects of our industry. But in the west we have forgotten our essence, not all of us, mind you!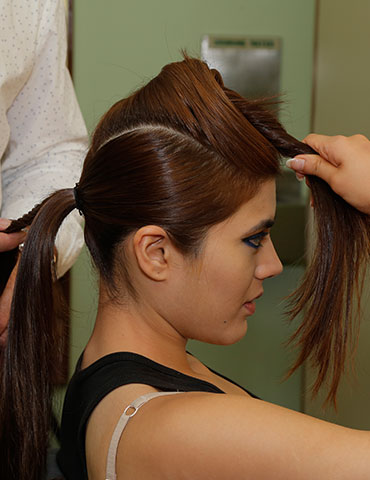 You launch collections very often. What is your inspiration?
I am constantly asked how I am able to create more and more unique styles each year. I get my inspiration from a variety of sources. I travel the world so inspiration can come from anything from a street in Hong Kong or a sunset in Egypt. I also love movies and sometimes I can simply pick up an idea from the streets of London where I live.
Do you tweak your collection looks at live shows around the world?
People basically want to see the quintessential Collection 'look' and not something modified to their market. The steps don't get tweaked as it's a part of the education DVD, but it may be altered slightly to suit the model, the costume and the audience as well
How important is education?
It's incredibly important.The only way we can move forward is through education.
Fashion is always moving forward. So you can't stay in one position. Our clients have higher expectation of what they see on social media, around the world etc. It's important for the hair dressers to stay connected through education and the latest trend forecasts. In fact the reason why Wella asked me to visit India is to educate the stylists here and keep them up to date with global trends.
What does the future hold for you?
I'm really excited about launching www. Patrick-Cameron.com in July-August! This is because around the world our younger generations are not buying DVDs, books and so on now . They want the info on their smart phone, iPad or tablet. So we're going to be streaming our education from where hairdressers can buy a package or a subscription. This is possibly one of the most exciting things we've done in the last 20 years.
What's your personal style?
My hair styling signature is beautiful hair done simply. I know that doesn't look like that when you see the finished result but the foundations are always incredibly simple.
Any tips for Indian hairdressers?
01) Keep track of Trends and what is leading them.
02) Learn every aspect of our trade – cutting, colouring and hairdressing!
03) Fashion is a circle… what's a trend today may not be a trend tomorrow!
04) Develop yourself as a person, because you are your biggest asset!
If you weren't a hairdresser what would you be?
An interior designer or an architect… someone who creates and builds… I love both!