In conversation with the multi-talented hairstylist, Najeeb ur Rehman
Aself-assured and confident person, Najeeb ur Rehman is one of the most sort after hairstylists in India. His neversay-no attitude towards work and his diligence are the reasons behind his success in life. He is passionate about his job and the power to enhance the looks of his clients with his work, motivates him to keep going as a hairstylist. Not only does he have a celebrity clientele of the likes of Sonu Walia, Neha Dhupia, Jacqueline Fernandez, Evelyn Sharma, Mugdha Godse and Sonakshi Sinha to name a few, but he has also won numerous accolades and awards as a hairstylist like Best Service Award 2001 – Pivot Point, Hair Expert and Color Consultant from Schwarzkopf Professional for 2009 Miss India Pageant, I Diva Award for Best Trainer – 2011, 2012 and 2013 and many more. He also dons the hat of a PPS Director of India for Schwarzkopf Professional.,
Let's get to know this versatile, driven and skilled hairstylist a little better…
Why and how did you decide to be a professional hairstylist?
Though hairdressing runs in my blood, it is the artistic influence and creativity it allows me that has driven me to choose hairstyling as my profession. I was influenced by sketching and designing; infact I wanted to be a fashion designer. I had written a few Fashion School entrance exams and worked with a local jacket factory during my graduation days. On my father's suggestion, I enrolled myself with a hairdressing school called Pivot Point Delhi in 1994. There I found that hairdressing is no less than fashion designing in any way. It was high on creativity – drawing sections, creating looks, moodboards, conceptualizing haircuts…
So, I think passion and designing influence are the two main factors which led me to become a professional hairstylist.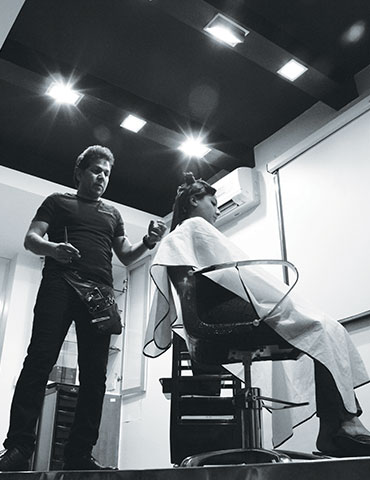 How has your journey as a hairstylist been so far?
It's been good so far, I've enjoyed every bit of the last 22 years. Being a hairstylist and trainer, together this combination is making my journey very interesting.
How is your way of hairstyling different than the other hairstylists?
I feel exploring every aspect of hairdressing, be it hair designing, dressing, colouring, perming, straightening, consulting, doing shows and seminars, editorial shoots and education has made my style distinct. I have tried different aspects of the craft
What goes into doing hairstyling?
Passion! You have to love the craft. Also technical aspects like understanding face anatomy, hair texture, profession and lifestyle of the client when deciding the style and educating a client on maintaining their hairstyle after.
How important do you think education is in this field?
It is very important as education breaks all boundaries to explore hairdressing to the fullest. A strong foundation gives wings to your creativity and the freedom to create any look or style that you can imagine.
What are the most challenging aspects of your job?
Explaining to someone what you think and convincing them about the limitations of a particular hairstyle or service can get challenging
What elements in the job do you enjoy the most?
My job gives me the power to change someone's entire look and to gain the trust of my clients – these things I enjoy the most.
Any future plans?
My dream is to come up with a Hair Dressing Academy, which not only teaches hairdressing but also other important aspects like computer education, language, soft skills and salon management for aspiring hairstylists.
What do you think needs to change in the hairstyling profession in India?
The basic educational qualification of a hairdresser needs to grow more along with their knowledge regarding the medium, i.e., the use of professional products and specific hairdressing tools needs to improve
What would your advice be to aspiring hairstylists?
To grow in life, knowledge and stability are the two important factors, as success does not have any shortcuts