ENVI Salon and Spa's newly launched outlet in Mumbai is a perfect stop by for a luxurious experience.
Beauty is a mood lifter and changes emotions in a positive way. While everyone's lifestyles have been stressed this year, causing complaints of hair issues and skin problems. These are two important factors that can mar an individual's beauty.
But help is at hand! Known for their luxurious hair and beauty treatments ENVI Salon and Spa, invited us to check out their newest outlet. ENVI has been expanding its services all across the country and contributing its services to make people look and feel good about themselves since 2004. With 13 salons in Mumbai, 3 in Pune, 6 in Hyderabad, and 2 in Chennai the chain is on its way to launch in Banglore soon too.
While the Covid restrictions prevented me from an actual visit, I managed to get a virtual tour of the newly launched ENVI outlet in R City Mall, Ghatkopar. The salon was launched in June 2020 and has been offering limited services owing to the safety protocols set by the government.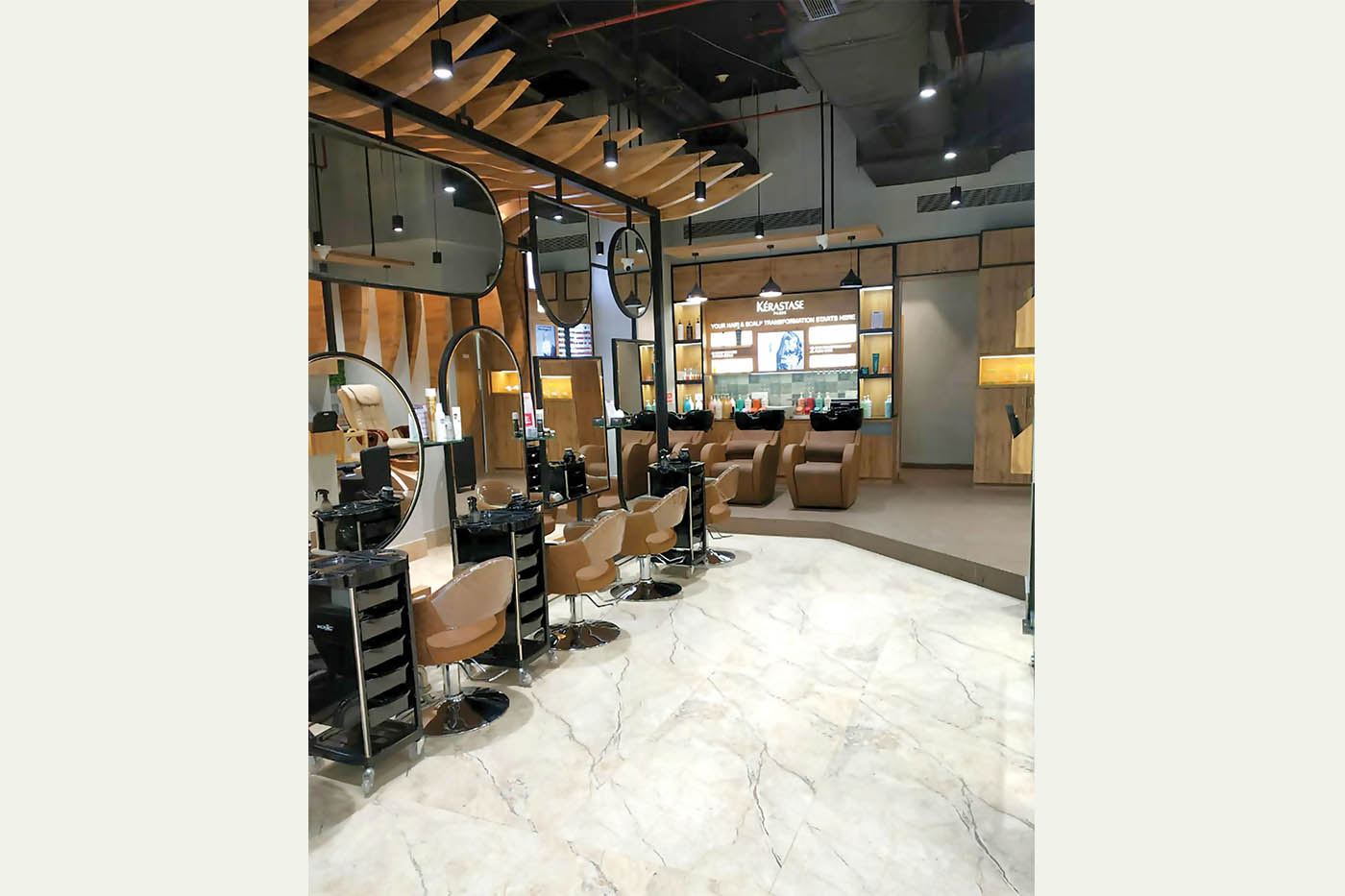 Modern Interiors
Every salon has its own distinctive features and ENVI is no different in that matter. The interiors of the salon at Ghatkopar R City Mall have been done with modern classic minimalistic colours – black, white, mahogany and off-white shades with a hint of green to make the area look brighter. The hair stations have geometrically shaped mirrors and are placed on both sides using up the area of the salon to its best. While the seating is quite well planned with proper spacing, the salon currently follows an alternate seating arrangement which is currently mandated.
There are 2 pedicure stations appropriately placed to make it easy to move around and work efficiently. The shampoo stations are also well designed and comfortable in terms of modern ergonomic designs. The Kerastase luxury treatment room is an exclusive part of the salon and are beautifully designed with soothing offwhite and beige brown wall and chairs, a white trolly and an oval shaped mirror with a glowing backlight. The ambience is luxurious and makes one feel pampered from the start to the end of their experience. There is a Nail Station with a nail technician ready to assist you as soon as you walk in too.
Brands
Products are definitely an important aspect of a salon. Clients are certainly influenced by the
products a salon uses and also how well the stylists and aestheticians are trained. It definitely decides their interest in their future visits to the salon. This branch of ENVI has it all to attract all clients who walks in. They have retail sections for Kerastase, Olaplex, L'oreal, Dermalogica and D Fabulous, the top international brands in the beauty industry.
Treatments & Services
All services including skin treatments – facials and massages, mani-pedi, haircuts, styling colouring and other chemical treatments, nail art services etc. are available. While the pandemic still prevails in the country, the salon staff has been very cautious with regard to adhering to all safety and sanitization protocols.
The customers are offered a sanitizer on entering the salon followed by a pair of shoe covers, a fresh mask and a head cover as per requirement. All the treatments are done with gloves on to avoid direct skin touch.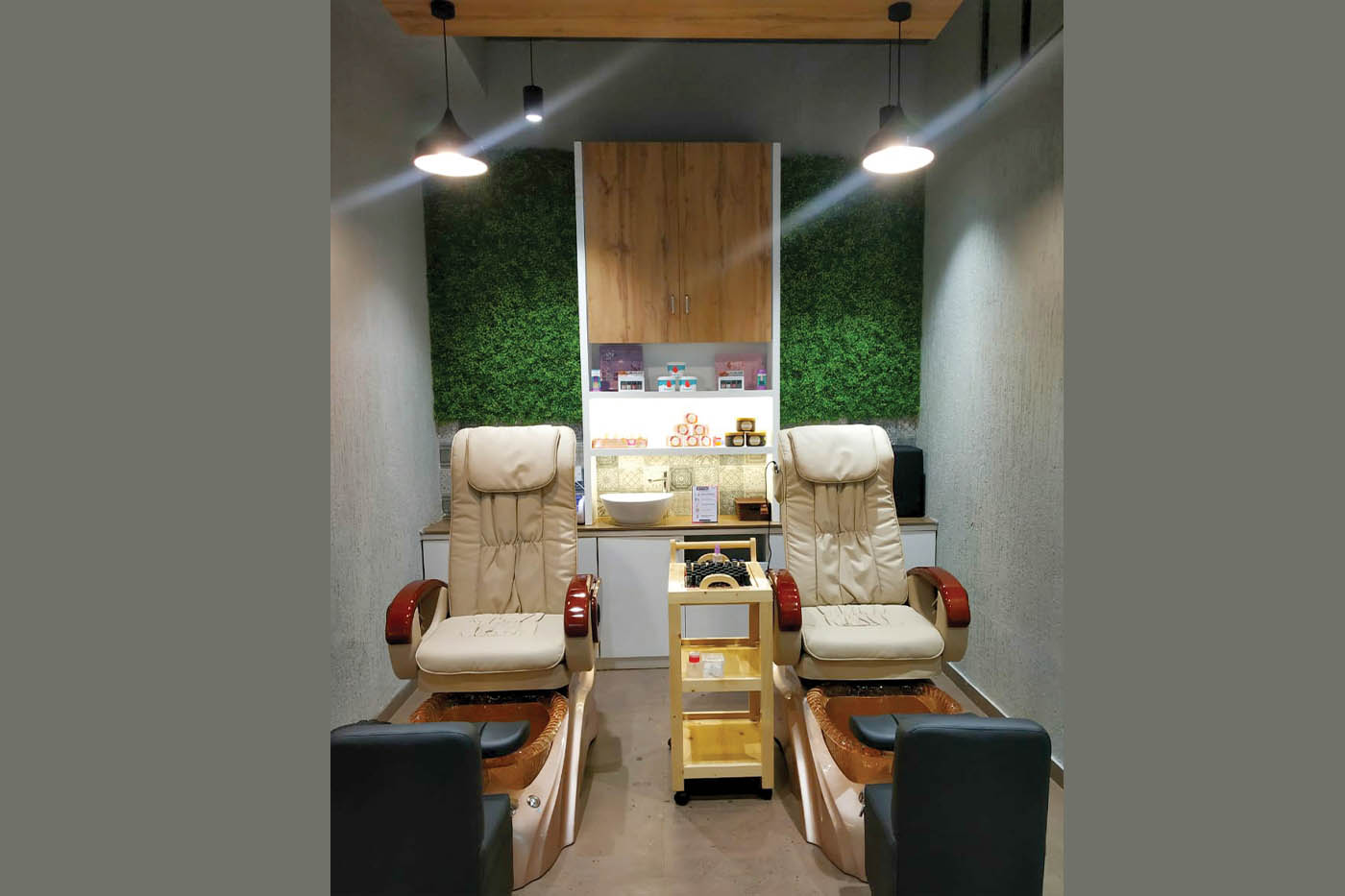 Staff & Trainings
Four hairstylists also trained in mani-pedi services and one nail technician. Training is usually held every 2 weeks.
USP of the Salon
Team ENVI believes "Education is the Key to success". Only by strong emphasis on education, can we deliver on the promise of customer satisfaction – To meet the constantly evolving needs of our customers. ENVI totally stands by the product and quality of the service and ensures feedback for every service offered to clients. Any issues or concerns are taken up and resolved with utmost priority.
Through the use of technology and robust procedures, ENVI Salon and Spa also works to ensure that customers can experience an identical experience at every outlet across the entire network of ENVI Salons.
Grooming is the current voice of health and beauty and the ENVI Salon and Spa at Ghatkopar is the right place to pick for that. So, if you're looking for a long-awaited makeover, or a spa-like experience, this one is a great choice.